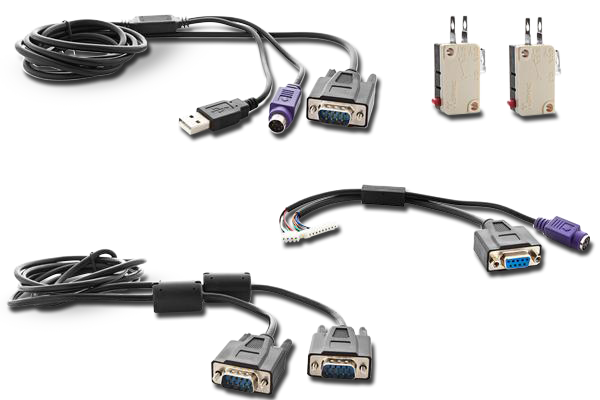 PRE-ORDER: X-Arcade Complete Replacement & Repair Bundle [SHIP IN JAN 2024]
Sale price
$10.00
Regular price
Complete Replacement Set For X-Arcade
This nifty bundle includes a complete replacement cable set for your X-Arcade, plus extra microswitches for on-site replacement of any button switch. Great option if you've lost your cable, dog ate it, or the wife got angry at you for playing too much Donkey Kong and stuck your cables in the blender.
If you've purchased a 2nd-hand X-Arcade, this will include all possible cables to replace the connections from the PCB to any computer or any X-Arcade Game System Adapter.
#social-media-here
What's Included:
1X-Arcade Serial Game Console Adapter Cable  (allows you to connect any X-Arcade directly to any X-Arcade Adapter)
1 X-Arcade USB/PS-2 Connector For Computer (allows you to connect any X-Arcade directly to Keyboard PS-2 port or USB per USB FUNCTIONALITY below)
PCB Cable (for X-Arcade with cable dangling out the back)
Extra micro switches for buttons (2)
Important: Please read the requirements for your X-Arcade Version:
PS-2 Version
If the back of X-Arcade looks like the top picture with an old PS-2 port from 2000-2002 X-Arcade models, there are special requirements for you to use your X-Arcade:
YOU MUST HAVE a PS-2 Keyboard connected to the port on the back
YOU MUST CONNECT this bundle's PS-2 cable to a Keyboard PS-2 Port on your computer
YOUR COMPUTER MUST HAVE A KEYBOARD PS-2 PORT
If your computer was produced after 2005, it's unlikely you have a PS-2 port as these were replaced by USB PORTS.
To use a newer computer with your older 2000-2002 PS-2 X-Acade, YOU CANNOT purchase a third-party adapter to change a PS-2 to USB. You must upgrade to an X-Arcade USB Board. We will not provide any technical support for third-party/Radio Shack style adapters as these do not have electronics to convert PS-2 signals to USB.

*USB Functionality
NO Keyboard needs to be connected to your X-Arcade with this version
If you want to program your X-Arcade, it will require a PS-2 Keyboard connected to the back of the unit
For the USB functionality, your X-Arcade will look like the bottom pic and uses our current-generation X-Arcade USB Board