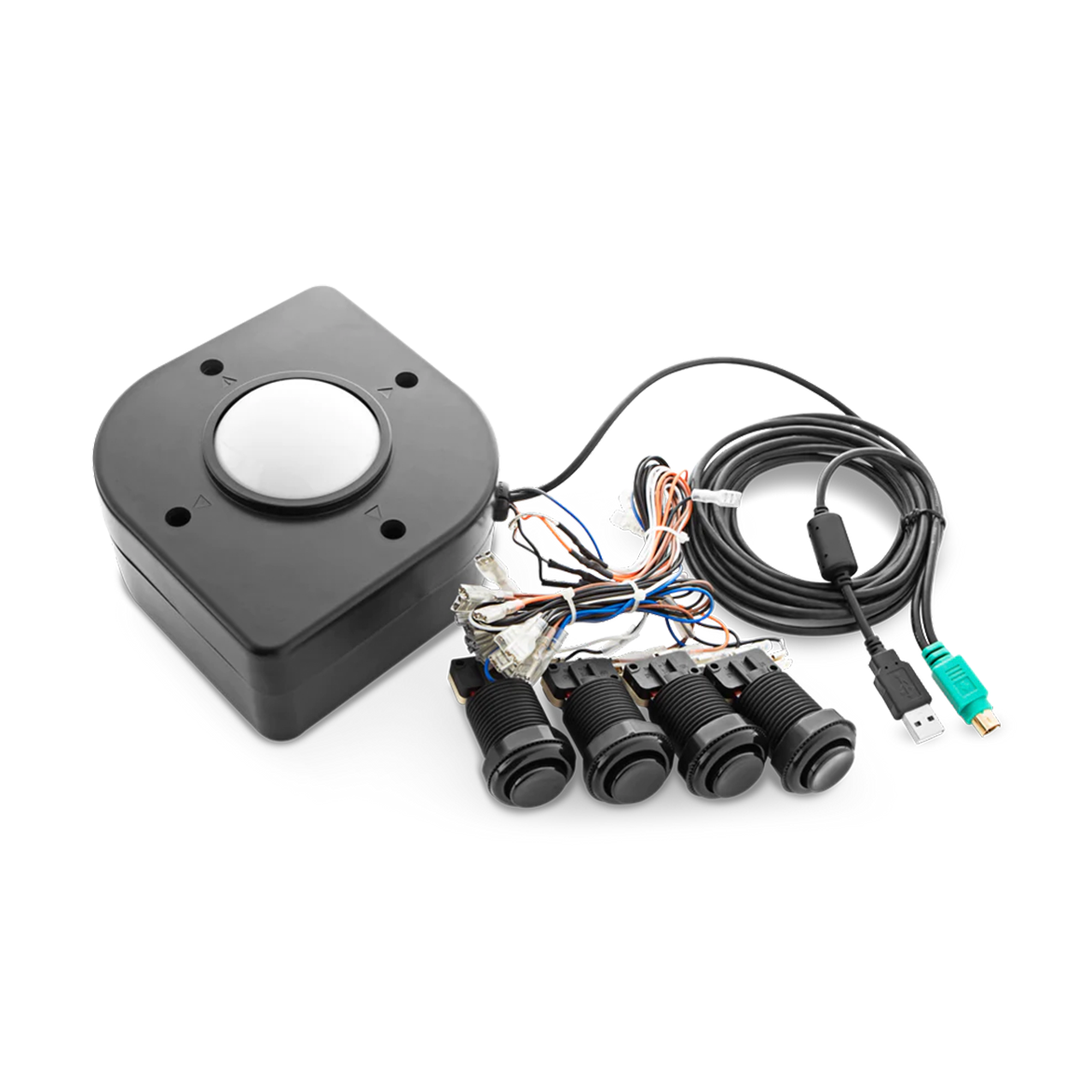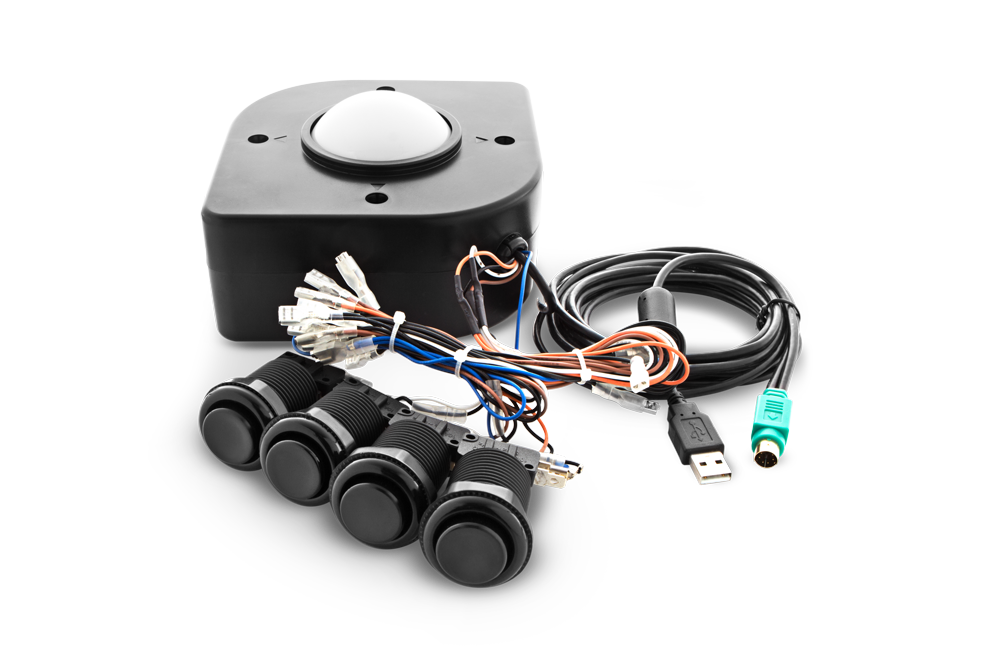 PRE-ORDER: X-Arcade Trackball Assembly 3": USB[SHIP IN JAN 2024]
Sale price
$50.00
Regular price
$99.99
PRE-ORDER: X-Arcade Trackball Assembly 3": USB[SHIP IN JAN 2024]
Sale price
$50.00
Regular price
$99.99
INDESTRUCTIBLE SOLUTION FOR INTERACTIVE PROJECTS
The X-Arcade, Trackball Assembly is a commercial grade, arcade quality trackball designed for use in any consumer or industrial application requiring mouse-style control.
Connect Via PS2 or USB!
Designed to meet the demands of industrial applications, the trackball utilizes the top-rated Sharp 85 photocoupler from Japan for high-performance optical recognition.
X-Arcade Trackball Assembly Applications
Easily add analog mouse control to your project
Instant compatibility with any OS: PC, Mac, Linux--no drivers required
Ideal replacement trackball for arcade machine
#1 solution for MAME
Government, Academic and Commercial project integration support
Designed to meet the demands of performance-minded enthusiasts, the trackball utilizes the highest-rated photocoupler on the market from Sharp Electronics to ensure the most precise optical sensing and performance.
Exhibiting master craftsmanship, uncompromising attention to detail and backed by a lifetime warranty, your Trackball Kit is positioned as a higher-quality, lower-cost alternative to the Happ Controls or Betson Imperial units.
Compare to similar industrial trackball kits costing over $150.
Trackball Component Price Change
This trackball uses a number of components from Japan and as a result of the Japanese Tsunami last year: materials have increased in price. We have been forced to permanently adjust the MSRP of this item.
X-Arcade' Trackball Assembly Features
Unbreakable high-grade poly carbonate construction
Case design includes flat lip to smooth control and movement
Exceptional performance and precision is achieved from iterative hardened steel shafts
Manufacturing and assembly process completed in "dust-free" environment compared to "open warehouse" of alternative trackball makers
Tested and preferred by elite gamers for superior performance
Built like a tank, backed by the leading warranty amongst all trackball suppliers
Powerful optics work even under dirty and dusty conditions
Unique design requires NO MOUNTING PLATE. Simply use a router to cut out 5-7/8' by 5-7/8'down to '. Cut 2-7/8' hole for lip/ball. Smart design, easy to install!
NO Gimmicks, Industry Leading Lifetime Warranty
X-Arcade is built to be bulletproof, and so is the warranty that comes with it. XGAMING Lifetime Warranty covers your X-Arcade Trackball for LIFE. It's that simple. No gimmicks, industryleading warranty.
No other company selling a device like this has the huevos to offer such a warranty. Ever wonder why? Oh yeah! ... you'll also get Toll Free Support, Online Live Help, and a 30 Day Money Back Guarantee.
Just click on the link and follow the instructions to get a free Maximus Arcade license with your Trackball purchase. 
What's Included
Trackball Assembly, 10FT PS/2 and USB Connection
Maximus Arcade License $25 Value (Follow Instructions On Maximus Arcade For Obtaining Code)
Includes (4) bolts with mounting
Includes (4) black arcade buttons and (4) micro-switches
Connectivity Cables for left, right, middle mouse click
Connectivity cable for horizontal disabler button
Industry standard 3" diameter ball
Horizontal Disabler (Golf Cheat)
30 Day Money Back Guarantee
Toll Free And Online Live Technical Support

To Install, Use a router to cut out 5-7/8' by 5-7/8' down to 1/4'. Cut 2-7/8' hole for lip/ball.
Product Reviews
As with all our products, computer and gaming industry experts enthusiastically endorse the Trackball as the #1 industrial trackball available. These reviews feature the Trackball in a wooden case no longer in production.
Suggested Games
Limited Time: Free Maximus Arcade Software With Purchase ($25 Value)
Purchase any X-Arcade and the guys at Maximus Arcade will send you an unlock code (there is NO CD) for their great arcade gaming software! Relive arcade legends on any computer with this special, limited-time free bundle of Maximus Arcade.
Maximus Arcade is Windows-compatible software that allows you to relive thousands of classic games and creates seamless interaction with multiple arcade and console emulators while keeping Windows hidden. Put simply: It's like Itunes or Netflix for managing all your classic games. Browse, manage and play thousands of classic games on your PC.